How psychiatric mental health nurse practitioners improve patient outcomes through collaboration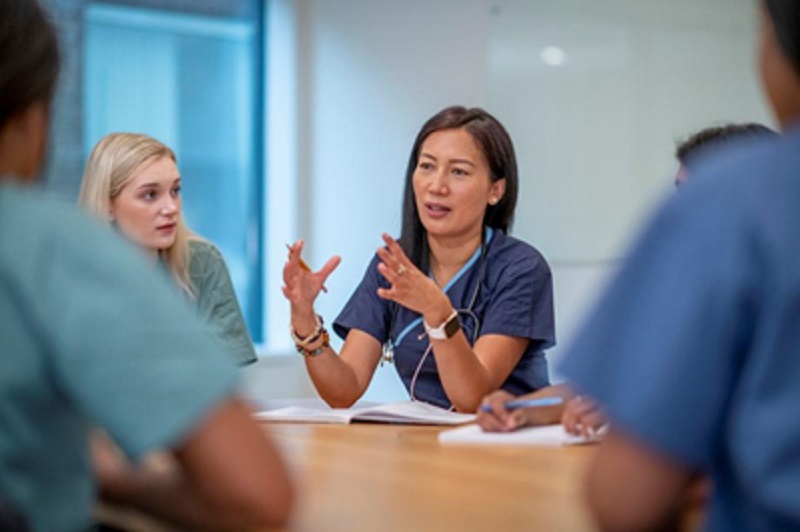 The job of a psychiatric mental health nurse practitioner (PMHNP) is a highly valued role within healthcare. It is in high demand because people are more aware of mental health issues than ever before and no longer consider them taboo. In addition, the profession itself is demanding because there are a lot of things that a PMHNP must oversee.
Identifying, treating and managing acute illness are among the basic responsibilities of a psychiatric mental health nurse practitioner, which are based on the nursing process and therapeutic connection. Their additional duties also involve:
Providing counseling and psychotherapy to patients
Advising medications for both acute and long-term conditions
Offering coordinated care
Making referrals
Prescribing medications
Carrying out and evaluating laboratory tests
Diagnostic studies
Providing preventative care
However, there is potential to go beyond these offerings in the general preventive as well as consultative roles of the PMHNP. This may include essential interventions, such as promoting good sleeping habits, a nutritious diet, providing assistance to parents, enhancing patient-caregiver interaction, relaxation and teaching coping strategies.
How to pursue a career as a PMHNP?
In order to become a successful and competent psychiatric mental health nurse practitioner, you must follow a simple educational roadmap. The first step involves acquiring a Bachelor of Science in Nursing (BSN) degree. You will then need to obtain your license to work as a registered nurse in your state to gain some experience. After obtaining at least two years of professional nursing experience, you can then apply to earn a master's degree. After earning your master's degree, you can continue your advanced education by pursuing a PhD if you wish, but this is completely optional.
At the master's level, you can either choose to enroll in a specialized MSN PMHNP degree. Reputable institutions such as Rockhurst University Online offer a specialized MSN PMHNP degree. Online coursework is combined with clinical placements, so professional nurses who are busy balancing work and life can complete their master's to become psychiatric mental health nurse practitioners. Students will have the option to choose between either full-time or part-time learning. This program covers topics such as advanced pharmacology, psychopharmacology and advanced health research.
What is multidisciplinary or collaborative care?
When a patient is being cared for, a variety of demands arise which need to be attended to by various individuals. These professionals should be able to use their knowledge, expertise, abilities and evidence-based best practices to meet complicated patient requirements in order to manage healthcare concerns.
Collaborative teams include healthcare experts working together to develop a coordinated strategy for delivering care based on shared choices. Inter professional care is also described as the delivery of thorough health services to patients by several health professionals who collaborate to provide high-quality care.
This type of evidence-based therapeutic approach ensures that a patient will receive the finest care available. A multidisciplinary team of specialists who can meet the patient's physical and psychosocial needs, maintain efficient communication among themselves, and involve the patient in every decision and discussion pertaining to their wellbeing so that they are kept informed and involved in the process at all times, are key components of a multidisciplinary approach to care.
PMHNPs' collaboration with other healthcare professionals
Psychiatric mental health nurse practitioners receive interdisciplinary education and are provided with practice settings to develop their collaborative skills further. The nursing profession can only function effectively with the ability to collaborate with other professionals, both within and outside of the conventional health area. More than many other healthcare practitioners, mental health specialists need to cooperate effectively with specialists from various disciplines, including endocrinology, neurological science, education, dietetics, psychology, social work and the justice system. According to an IOM proposal, in addition to collaborating with doctors and other healthcare professionals, nurses should aim to actively participate in and carry out innovation and improvements within their sphere of professional influence.
Benefits of collaborative care among PMHNPs
Treatment based on a multidisciplinary approach has several benefits for patients and medical personnel. The multidisciplinary care technique, when applied by healthcare professionals, may enhance the coordination of patient care, patient health outcomes and educational opportunities, while eliminating service duplication and saving time.
For patients, care centered around a collaborative approach ensures better outcomes because it helps to ensure high-quality care, which increases patient satisfaction, leads to quicker diagnosis and treatment, reduces the length of hospitalization and provides more opportunities for gaining health-related knowledge and psychosocial support.
Psychiatric mental health nurse practitioners and professionals from several professions must work together in order to provide patients with collaborative care. To meet the demands of patients, families and communities, they must use their comprehensive skills and knowledge. With this kind of cooperation, providing patients with a high-quality treatment experience is easier, resulting in a reduction in the required effort, resources and time. It is critical to emphasize that collaborative teams' responsibilities extend beyond simply providing patients with modern healthcare; they also need to ensure that patients and their families receive proper social care.
Conclusion
PMHNPs have a crucial role in the field of healthcare. They are especially skilled in providing care for patients and their psychological needs. They work in collaboration with other expert healthcare providers to make sure that the patient receives the best possible care and recovers as soon as possible.