Popular Cosmetic Dental Procedures in Maroubra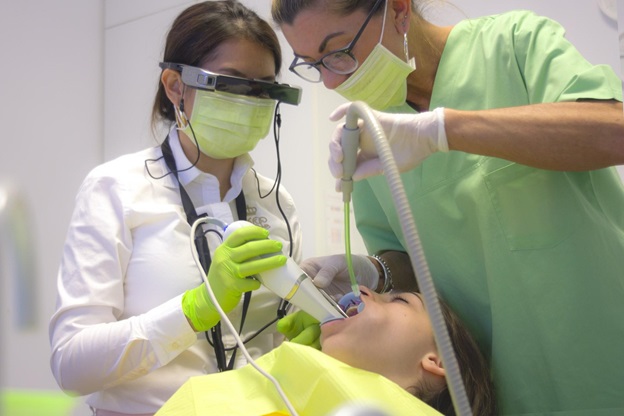 Our smiles are incomplete without our teeth. Our chompers not only help us grind down food, chew on that delicious apple, get a chunk out of that meaty steak but also flash a beautiful smile to win hearts. Sometimes few lucky ones are blessed with beautiful, straight rows of teeth, but sadly, our natural teeth cannot always give us the smile of our dreams. And if you are someone who is in the latter category, wishing to have a sparkling smile, cosmetic dentistry is the answer for you.
Who are Cosmetic Dentists?
The work of a cosmetic dentist has become highly popular in recent years because of the rise in the number of people who want to improve the aesthetics of their teeth. A good cosmetic dentist can change your appearance dramatically simply by improving the appearance of your teeth, and what's better than being able to smile with your flashing teeth dazzling with newfound confidence. No matter what aesthetic issue you may have with your teeth, from teeth discolouration, staining, chipping, worn down, broken or gapped, or misalignment of teeth, cosmetic dentistry procedures are out there to fix all of them.
A cosmetic dentist can help you create a treatment plan so you can achieve this. But you also need to make sure that you choose a reliable dental clinic with a specialisation in cosmetic dentistry. There are several such cosmetic dentists available in Maroubra.
But first, let's have a look at the most common cosmetic dental procedures so that you can choose one that is suitable for you and find a cosmetic dentist who specialises in that procedure in Maroubra.
Teeth Whitening or Teeth Bleaching
Teeth bleaching or whitening is one of the most common dental modification work performed by a cosmetic dentist as it offers an easy and quick way to enhance their smiles. This simply helps you brighten and whiten your teeth, which also effectively removes stains and discolouration from smoking, tobacco use etc., from your teeth. A cosmetic dentist typically uses a bleaching agent to perform this.
This can be suitable for you if you simply need a bit of brightening and affordable. It is best to get tooth whitening from a registered cosmetic dentist as otc bleaching products may not be safe.
Dental Veneers
The second most popularly requested enhancement from a cosmetic dentist is dental veneer, often known as porcelain veneers. A cosmetic dentist gently files down to take an impression of your teeth. A dental lab then uses this impression to create your dental veneers, porcelain shells fitted over the tooth surface.
Veneers can be made of both porcelain and resin. A cosmetic dentist would recommend dental veneers for patients with stained teeth that cannot be treated with bleach whitening and sometimes even chipped and broken teeth.
Dental Enamel Bonding
The subsequent cosmetic dentist recommended procedure to fix stained or chipped teeth is dental bonding. In this procedure, a cosmetic dentist places a tooth coloured material over the teeth under treatment. The material is moldable and can be shaped according to your choice. This composite bonding material is the same thing that is also used during dental filling procedures.
Dental veneers are often preferred over dental bonding because of the apparent drawback, i.e. the bonding has a lower life span when compared to dental veneers.
Dental Implants
A cosmetic dentist may recommend a titanium made dental implant as a replacement attachment for a missing tooth. These titanium dental implants are implanted into the bone through surgery. This metal implant is created such that it performs the role of a tooth root.
Invisalign Braces
If you think braces are only meant for children, correct yourself as adult braces are becoming very popular currently among people who haven't got the chance to correct their teeth alignment at a young age. A cosmetic dentist recommends Invisalign braces for adults because they are invisible to others. These braces are more than for aesthetic modifications, and they can also treat pain and headache from misalignment.
Dental Crowns
Your cosmetic dentist may recommend dental crowns if you have damaged teeth from decay or chipping. They can be made of resin, metal, porcelain or ceramic fused with metal. However, porcelain crowns are especially famous amongst celebrities looking to make a statement with their smiles. This dental modification, also known as caps, fits over your damaged teeth till the gum is a replacement to restore their original look.